The Treasure of Stars!!
We must consider other vistas around Three Arch Bay, including those above our head.
I came to the Bay in the 1960's. At that time, the surrounding areas of Mission Viejo, El Toro, Laguna Niguel and others were nonexistent. Three Arch Bay was surrounded by a pool of inky blackness at night, with only a very faint glow coming from the lights of Laguna, 4 miles north. The blazing constellations were our constant companions. We lived under a starry dome of treasure.
The night sky above was truly a wonder to behold. A brilliant Milky Way ran up and over our heads like a river of Diamonds, shimmering with ghostly fire from horizon to horizon throughout the winter months.
The farthest object away that you can see with the naked eye, the Andromeda Galaxy, would glow like soft cotton in the folds of Cassiopeia's dress.
Comets, those mysterious periodic celestial visitors, would plunge into the inner solar system trailing long delicate tails of dust and gas to grace our skies. I loved to take pictures of them.
(I was ill during the passage of Hale-Bopp and didn't get any photographs. If you have any photos of this famous visitor to Three Arch Bay, taken here in the Bay, I would love to see them. Contact me please!)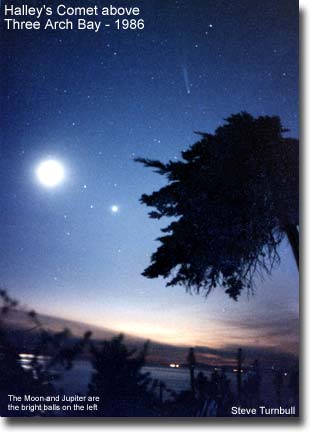 The yearly meteor storms can always be counted on to liven up the night with their silent but furious rain of dust, burning blue, yellow, and green as they plunge into the thick atmosphere above.
One night in 1972, I was lucky enough to witness a "once in a lifetime" event, a huge fireball above Three Arch Bay. The meteor, as large as a car, dashed in from the East toward Catalina Island, lighting up the night sky as if it were noon on a sunny day. Shadows raced along the ground, the ocean became a brilliant deep blue, houses were in full color, with the fireball an incandescent blue plasma ball bigger then three moons in width.
...Flash, FLASSSSSSSSHHHHHHHHHH!!!!!!... Flash!.. Flash!... sputter... blink... blink... gone... All in stunning silence. It had lasted maybe 10 seconds! A green ionized tail of gas and smoke lingered in the upper atmosphere for many minutes...maybe 20 minutes as best I remember
Today, the gentle night sky is nearly gone from our view, stolen by the illuminated crush of encroaching civilization, and the bewildering need by some locals to light their homes as if they were department stores.
This marvelous treasure has gradually slipped away from us, a little bit more and more every year. We hardly noticed that it was going away.
But it's still not too late! Turn off your lights and look up.
See the gift.